Holiday Weekend for many. But, maybe even an extended one for both Beyonce and the die hard fans that make up the ever so dedicated #BeyHive as we celebrate and wish her a very happy birthday!
In honor of the mega star's birthday celebration, we just wanted to run through a few fun facts that you may or may not have known:
1. "Who Run the World?" We all know about her famous question and the declaration that followed as she empowered women but did you also know she actually served as an Ambassador for the 2012 World Humanitarian Day?
2. Of course, Queen B has an excess of both beauty and brains to match that amazing voice. Her flawless look allowed her to become the first non-athlete or supermodel to ever grace the cover of Sports Illustrated Swimsuit Issue in 2007.
3. Most artists/songwriters obviously have a special way with words but not many can say they actually had words added to the dictionary. In 2006, the Oxford dictionary added "Bootylicious" – yes, we're serious.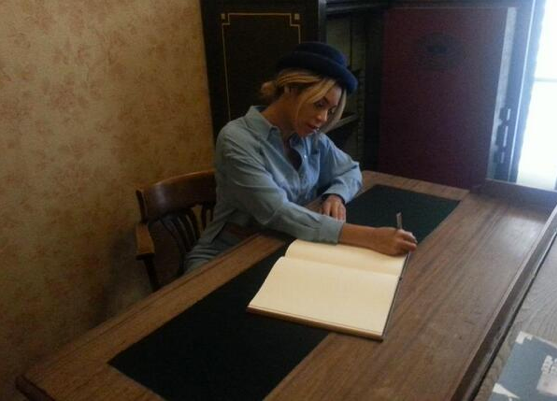 4. The saying goes "good things come in 3's" but in Beyonce's life it has been the number 4 that clearly stands out. Her mother was born January 4th, she married Jigga man on April 4th (whose birthday is December 4th) and her birthday today lands on September 4th. Not to mention her album '4' easily went over 1M in sales. The universe is truly amazing.
5. Beyonce has pretty much owned every platform she has touched whether it is the stage, an acting role or the like – but did you she also tackled Animated Films? The film 'Epic' was able to grab her for some voiceover action in 2013.
6. Beyonce & Jay-Z may be the industry's most successful "power couple" when it comes to music as well as the Forbes list. But, their Bonnie and Clyde connection runs deep as 50 Cent admits Beyonce once had a few words for the NY rapper thinking there was an issue between Jay & 50. Guess she really is down to ride, 50 Cent isn't exactly the one to just run up on.
7. If you have ever witnessed the energy of one of her live shows, you may wonder how she is able to maintain and effortlessly run through her deep catalogue never dropping off even for a second. In her younger years, she was trained to run a mile while singing with the same passion that she would in studio. Guess, that training paid dividends once earning $1.25M for a 5-minute party, earning the title of "Highest Paid Performer in the World per Minute". Guess, time really is money.
8. Teamwork makes the Dreamwork. Destiny's Child was one of the most popular R&B groups for many years, each member talented enough to even launch solo careers after they decided to go their separate ways. But, before reaching that point Beyonce and the ladies were presented with a star on the coveted Hollywood Walk of Fame.
9.  We all know that Beyonce cleans up when it comes to awards, the Grammys are no different. The Houston native has racked up a total of TWENTY. Even surpassing the legendary Aretha Franklin. You may sit and think "Yeah, that sounds about right." But, take a step back from how spoiled we have become when it comes to her consistent greatness and think about how hard it is to even win ONE. This feat should definitely not be taken lightly.
10. Last but not least and the one fact that we all know but don't know at the same time. Blue Ivy Carter. Beyonce and Jay-Z's most prized possession after dealing with a tough miscarriage prior to bringing a beautiful life into the world. We wonder which path Blue is going to choose as she has two of the most talented musicians in the world as parents but will she use that skill set in an entirely different manner? That is one thing NONE of us know which puts an appropriate end to the list – highlighting one the best moments of Beyonce's career and celebrating life, not only hers for this September 4th celebration but also her legacy.
Happy Birthday Beyonce!